Welcome to SuperLan Chemical Co.,Ltd.
XL019
(CAS No:945755-56-6)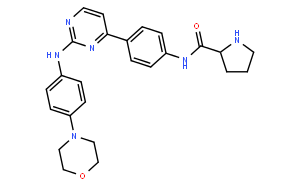 QC Documents
ChemicalInfomation
| | |
| --- | --- |
| CAS No: | 945755-56-6 |
| Molecular formula(MF) | C25H28N6O2 |
| Molecular Weight(MW): | 444.53 |
| Alias | |
Solubility
In vitro
DMSO
16 mg/mL (35.99 mM)
Water
<1 mg/mL
Ethanol
<1 mg/mL
Biological Activity
Description
XL019 is a potent and selective JAK2 inhibitor with IC50 of 2.2 nM, exhibiting >50-fold selectivity over JAK1, JAK3 and TYK2. Phase 1.
Features
Orally bioavailable JAK2-selective inhibitor and has been tested in Phase I clinical trials for treatment of Myelofibrosis.
Targets

JAK2 [1]
PDGFRβ [1]
JAK1 [1]
FLT3 [1]
JAK3 [1]

2.2 nM
125.4 nM
134.3 nM
139.7 nM
214.2 nM

In vitro

XL019 is a highly selective JAK2 inhibitor, binds to the active site of JAK2 displaying >50-fold selectivity against JAK1 and TYK2. XL019 reveals a desirable CYP (1A2, 2C9, 2D6, 3A4 ≥20 μM), hERG (16 μM), and P-glycoprotein inhibition (>20 μM) profile. [1] XL019 inhibits the activation of JAK2 as well as the mutated form JAK2V617F, which may result in the inhibition of the JAK-STAT signaling pathway and may induce apoptosis. XL019 showed more than 10-fold selective inhibition (IC50 = 64 nM) of STAT5 phosphorylation following EPO stimulation of erythroid cells compared with other cell systems. [2]

In vivo
XL019 significantly inhibits downstream markers pSTAT1 and pSTAT3 after administration 30, 100, and 300 mg/kg resulting in an ED50 of 42 mg/kg (pSTAT1) and 210 mg/kg (pSTAT3). XL019 has a superior pharmacodynamic profile and exhibits good oral absorption, and modest clearance and half life across species. XL019 inhibits of HEL.92.1.7 xenograft tumors growth in mice. It demonstrates 60% and 70% inhibition when dosed orally at 200 mg/kg and 300 mg/kg respectively twice a day for 14 days. Dosing at 300 mg/kg bid provided an 11.3-fold increase in apoptosis relative to vehicle control. [1]